About The WCI Conference
August 16 – 19, 2020 • Orlando
The Workers' Compensation Institute (WCI) is a nonprofit educational organization that serves as a comprehensive resource to all workers' compensation stakeholders. WCI sponsors the annual Workers' Compensation Educational Conference— the largest gathering of workers' compensation and safety/health professionals from across the country. Each year 7,000+ attendees gather to attend classes and the hottest networking events designed to keep professionals at the forefront of the workers' compensation industry.
WCI has attendance from 49 states across the nation ranging from upper-level executives to end users of products/services. The presence of "decision makers" best describes those in attendance, whether they be chief executive officers of major TPAs, insurance carriers, brokers, claims managers/supervisors or large employers. The annual conference offers widely-acclaimed classes, including unique breakouts such as a live surgery or a real case involving real litigants being argued before an actual Appellate Court. Attendees also have the opportunity for face-to-face interactions that provide significant business benefits by creating personal connections that foster trust between a company and its target audience.
5 Handy Exhibitor Items
Stapler
Velcro
Flashlight
Screwdriver
Scissors
5 Things to See/Do in Orlando
Explore Walt Disney World!
Visit Hogwarts at Universal Studios!
See Sharks at the Sea Life Aquarium!
Visit the Kennedy Space Center!
Relax and chill by the beach!
5 Great Giveaway Ideas
Special offers for NEW customers!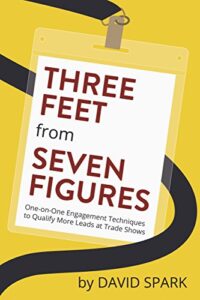 Need a new exhibit for your next trade show? For a limited time, we are offering a 10% discount for any new 2020 projects!
In addition use the form below to schedule a design meeting for a new project, and you could qualify for valuable FREE promotional products or a copy of David Spark's Three Feet from Seven Figures, a book about winning customer engagement techniques.*
*Promotion applies to new customer projects. Some additional limits and terms may apply.