Ready for International Manufacturing Technology Show?
With the IMTS International Manufacturing Technology Show (IMTS) approaching, Star wants to make sure you have everything you need to have a successful event. Have questions? Need a new exhibit? Let us know!
IMTS Website
Contact Star about a new exhibit for IMTS
About IMTS International Manufacturing Technology Show
September 14-19, 2020 • Chicago
The International Manufacturing Technology Show (IMTS) is widely known as the Premier Manufacturing Technology show in North America. Industry professionals from all over the world attend IMTS to see and experience more than 15,000 new machine tools, controls, computers, software, components, systems and processes that will solve their manufacturing challenges and improve their efficiency.
Attendees will encounter over 1900 booths and over 3,000 pieces of equipment from various exhibitors, plus specialized programs focused on solutions-based learning. Presentations on emerging technologies and digital manufacturing and networking opportunities will be available for all. More than 2,400 exhibitors from the manufacturing industry will display their products and productivity solutions covering 1.3 million net square feet of show floor, organized in Pavilions that are geared toward specific industries, technologies and solutions.
5 Handy Exhibitor Items
Stapler
Velcro
Flashlight
Screwdriver
Scissors
5 Things to See/Do in Chicago
See the city from the top of the Willis Tower!
Take a Chicago Mob Tour!
View Masterpieces at the Art Institute!
Go on an Architecture River Cruise!
Visit the "bean" at Millennium Park!
5 Great Giveaway Ideas
Special offers for NEW customers!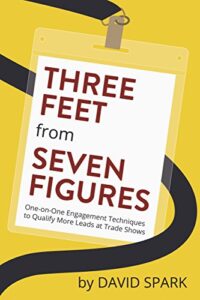 Need a new exhibit for your next trade show? For a limited time, we are offering a 10% discount for any new 2020 projects!
In addition use the form below to schedule a design meeting for a new project, and you could qualify for valuable FREE promotional products or a copy of David Spark's Three Feet from Seven Figures, a book about winning customer engagement techniques.*
*Promotion applies to new customer projects. Some additional limits and terms may apply.