About IFT20 Annual Event & Food Expo
July 12-15, 2020 • Chicago, IL
Since 1939, the Institute of Food Technologists (IFT) has been a forum for passionate science of food professionals and technologists to collaborate, learn, and contribute all with the goal of inspiring and transforming collective scientific knowledge into innovative solutions for the benefit of all people around the world. As a scientific community grounded in purpose, IFT feeds the minds that feed the world.
IFT20 Annual Event & Food Expo is one of the largest events of its kind bringing together science of food professionals from around the globe representing all segments of the food profession—research and design, ingredients, safety and quality, technology, equipment, processing, packaging, manufacturing, suppliers and buyers, policy makers, and academics—all converging with the intention to inspire and transform collective knowledge into innovative solutions to help advance our planet's food safety, nutrition, and sustainability.
5 Handy Exhibitor Items
Stapler
Velcro
Flashlight
Screwdriver
Scissors
5 Things to See/Do in Chicago
Visit Millennium Park!
Check out the Cloud Gate sculpture!
Take the Gangsters & Ghosts tour!
Visit the Museum of Science and Industry!
Lincoln Park Zoo!
5 Great Giveaway Ideas
Get a FREE copy of Three Feet from Seven Figures by David Spark, and learn more about customer engagement!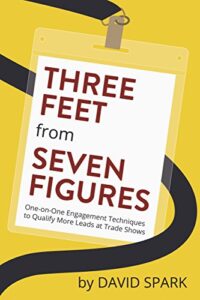 Do you need a new exhibit for IFT 2020? Schedule a project design meeting with us, and to thank you for your time and consideration, receive a FREE copy from us of the acclaimed book Three Feet from Seven Figures by David Spark!
Use the form below to get things started.