About the International Fasteners Expo (IFE)
September 28-30, 2020 • Las Vegas, NV
Since 1981, the event continues to bring together the manufacturers and master distributors of fasteners, precision formed parts, fastener machinery & tooling and other related products and services with distributors and sales agents in the distribution chain. Held annually in Las Vegas, Nevada, USA, the event consists of an all-day conference program presented by endorsing fastener associations and a show floor with more than 650 + exhibiting companies from around the world.
Each year, more than 5,000 attendees from 30+ countries travel to North America's #1 trade show city, Las Vegas, Nevada to network and do businesses with 650+ suppliers, showcasing every type of fasteners for the industrial, construction, aerospace, and automotive industry; electronic fasteners, specialty tooling products, special application fasteners, tooling and machinery, hand tools, power tools, service solutions, and much more . From industrial to construction, electronic to automotive and aerospace, this is the trade show where all types of distributors come to network and see customers, build new relationships, and find new products.
5 Handy Exhibitor Items
Stapler
Velcro
Flashlight
Screwdriver
Scissors
5 Things to See/Do in Las Vegas
Ride the "High Roller" Ferris wheel!
Watch the fountains at the Bellagio!
Check out a show on The Strip!
Visit the Neon Museum!
Brave a thrill ride atop the Stratosphere!
5 Great Giveaway Ideas
Special offers for NEW customers!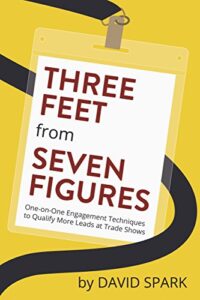 Need a new exhibit for your next trade show? For a limited time, we are offering a 10% discount for any new 2020 projects!
In addition use the form below to schedule a design meeting for a new project, and you could qualify for valuable FREE promotional products or a copy of David Spark's Three Feet from Seven Figures, a book about winning customer engagement techniques.*
*Promotion applies to new customer projects. Some additional limits and terms may apply.